This installation invites to explore 3D models of geographical locations that are transformed according to live environmental data collected on the Internet. By their displacements in front of the projection, the public interacts with a digitized space which's appearance and recognisability are determined by information about ongoing meteorological and astronomical phenomena. In addition to its visualization, the data transmitted by remote environmental sensors is sonified.
Ranging from cities to isolated natural areas, the distant locations shown were created by the use of photogrammetry, geomatic data and 3D modeling. These point cloud models provide XYZ coordinates that are used in a virtual space which ressembles a dynamic particle system. The display and positions of the points and of the lines that connects them are determined by the following environmental information as a mean to evoke or simulate them :
Local time : Point size and brightness (relative to sunrise and sunset).
Temperature : Point color.
Cloudiness : Point saturation and brightness.
Wind : Point displacement reflecting speed and direction.
Visibility : Intensity of a depth of field effect and transparency.
Humidity : Depth of field focus distance and point sharpness.
Precipitation : Lines are drawn from the sky to the ground and points are destabilized.
Lunar phase : Brightness of the lines at night.
The quadraphonic sound synthesis process uses this data and atmospheric pressure to generate the sonic environment. The virtual camera's displacement in the 3D space is influenced by the public's movements and by information on the location's environmental conditions.
At a time where the reality of physical spaces hybridizes with the digital world, the installation uses fluctuating data provided by the network to translate the evolution of phenomena affecting the locations shown at the moment of the public's experience. By connecting physical and digital spaces, Dérive inquires the phenomenology of mixed realities and probes into the changing nature of our perception and representation of the world.
---
Collaborator
Interactive System Development : Édouard Lanctôt-Benoit.
---
Acknowledgements
Supported by the Conseil des arts et des lettres du Québec and the Société de développement des entreprises culturelles. Thanks to the U.S. Geological Survey, World Weather Online and Yahoo! Weather for the data feeds, OpenStreetMap and its contributors, Géographies variables, Labomédia, Sporobole, AADN, ISEA2012, LabMIS, Avatar, Perte de Signal and Nancy Lombart.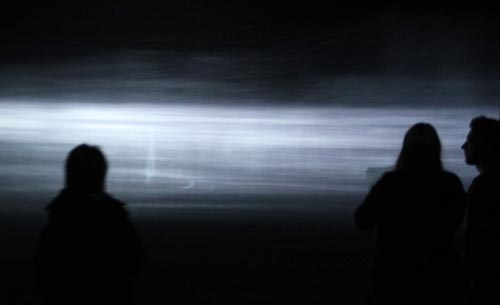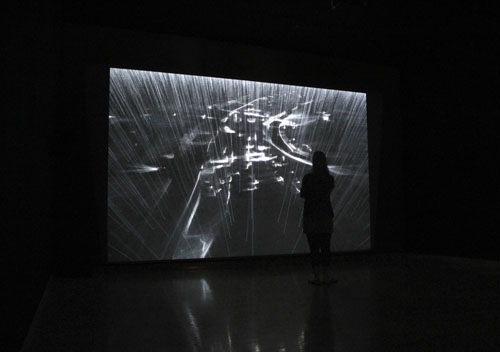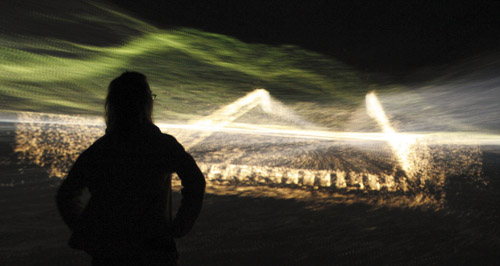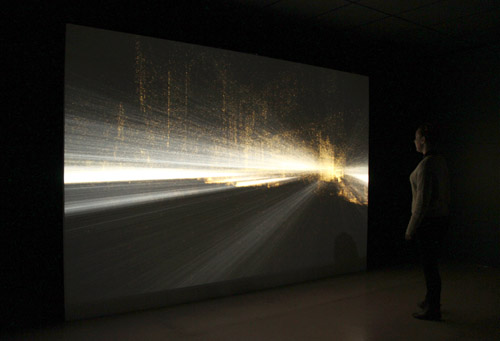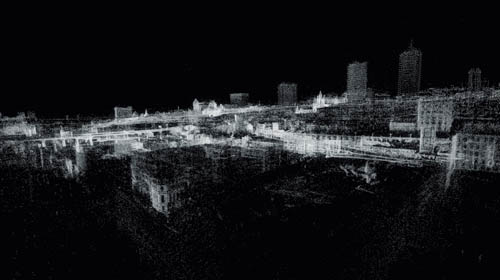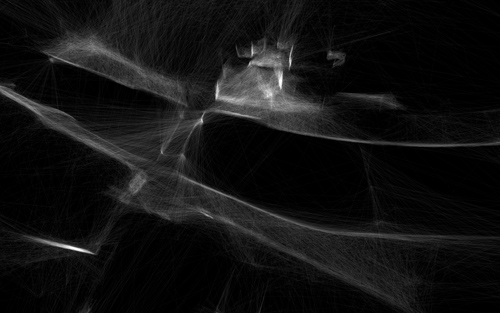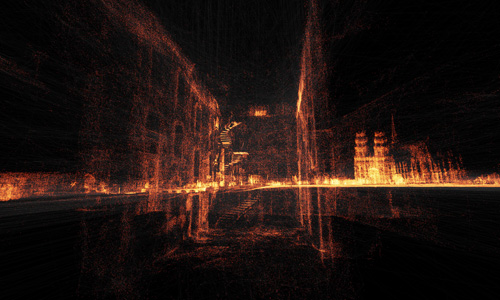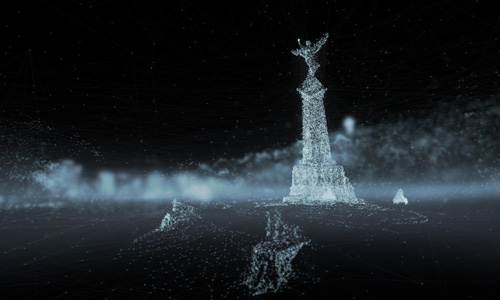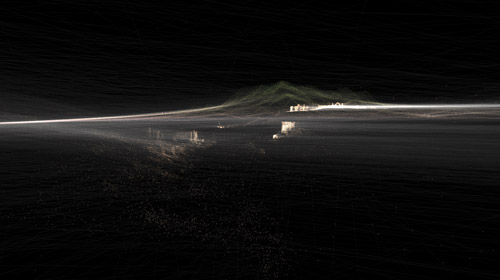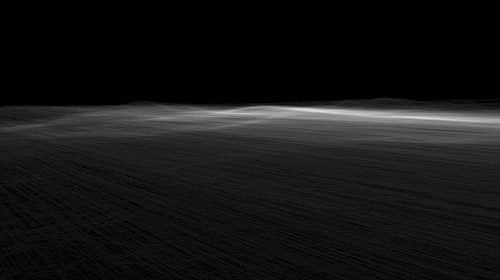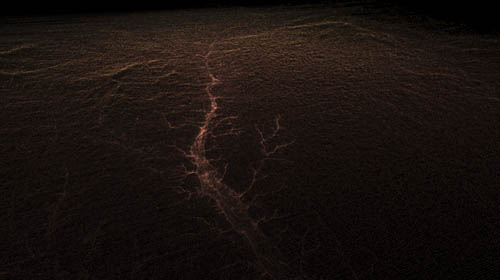 ---
Presentations
Nébuleuses urbaines protoype at La Maison Bourgogne during la Fête des 01 (Orléans, France), May 14-23 2010.
Outdoor interactive screen near the Marché de la Gare during Espace [im] média (Sherbrooke, Quebec, Canada) September 6-18 2011.
Expériences numériques Festival at Salle des Rancy (Lyon, France), November 11-12 2011.
Solo exhibition at Galerie Verticale (Laval, Quebec, Canada), March 24 to April 28 2012.
Bouillants #4 // Frontières (Vern-sur-Seiche, France), April 22nd to May 20th 2012.
Art Rock festival (Saint-Brieuc, France), May 22nd to 28th 2012.
ISEA2012 Albuquerque : Machine Wilderness, Albuquerque Museum of Art and History (Albuquerque, New Mexico, USA), September 19th 2012 to January 6th 2013.
Mois Multi 14, Avatar (Quebec city, Quebec, Canada), February 14th to 28th 2013.
Électrochoc 9, Halle Grenette (Bourgoin-Jallieu, France), April 3rd to 12th 2014.
New Frontier – Sundance Film Festival, 573 Main Street (Park City, Utah, USA), January 23rd to 31st 2015.
---
Links
Dérive in the Docubase of the MIT's Open Documentary Lab.
The 10 Must-See Sundance Films For Art Lovers. Article by Priscilla Frank. The Huffington Post. January 2015.
La realidad virtual. Como afectará a los webdocs. Parte 18. Article by Arnau Gifreu. Radio y Televisión Española. January 2015.
Dérive, text by Nathalie Bachand. Avatar's 40 000 ans Electronic Publication, January 2013.
Machine Wilderness: Re-envisionning Art, Technology and Nature. Review by Diane Armitage. THE Magazine (Santa Fe, NM), December 2012.
Interview with Larry Heard. Temporary Art Review.
KASA TV coverage of ISEA2012 at the Albuquerque Museum.
ISEA2012 Machine Wilderness. The Institute of Creative Technologies, September 2012.
ISEA2012 Albuquerque : Machine Wilderness. Catalog published by Radius Books in collaboration with 516 Arts, The Albuquerque Museum of Art, The University of New Mexico, and The Fund at the Albuquerque Community Foundation.
Dérive Paints Location Portraits With Point Clouds Of Light. Article by Abdullah Saeed on thecreatorsproject.com, May 2012.
The Variable City – François Quévillon's Dérive. Article by Greg J. Smith, Creative Applications Network, May 2012.
Bouillants #4 : ouverture des frontières. Alter1fo, April 2012.
Trois expos solos amusantes à la Verticale. Courrier Laval, April 2012.
Le pouvoir du regard. Revue Sabord. Mars 2012 – no 91, Surveillance.. Article by Annie Hudon Laroche about Chronoscopies and Dérive.
Dérive. Text by Geneviève Loiselle for the exhibition at Galerie Verticale. 2012.
Dérive modélise des villes en 3D. thecreatorsproject.com, December 2011.
Un festival sherbrookois multimédias. La Tribune, September 2011.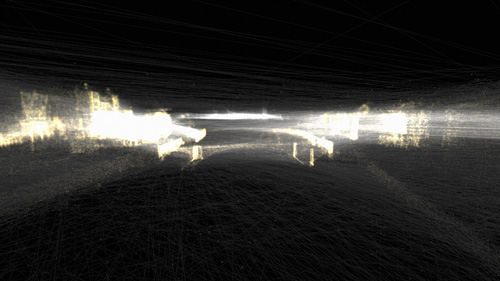 | | |
| --- | --- |
| | |